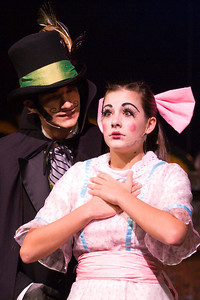 Performance
Photography
Theatre Program
We have been performing in community theatre for many years and have often been disappointed in both the quality and quantity of photographs that were made available to the cast and crew. So much hard work and dedication go into a show, and so many great memories come from it. We always felt that the people involved should be able to have a few images to remember the experience, and they shouldn't have to pay a fortune to get them!
Theatre is a labor of love, and Performance Photography is our contribution. It is a way for us to thank the talented actors, singers, dancers, musicians and crew members who give so much of themselves and bring so much joy to their audiences.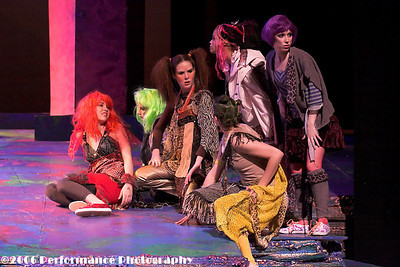 We are guided by the following philosophy:
Photography is an art form, but the best theatre photography attempts to capture the art that others have created. We aren't just taking candid shots of people who happen to be on a stage. We strive to capture every element of the story being told - the costumes, makeup, scenery, props, blocking and lighting all contribute to the story.

We strive to create images that show the audience's perspective. We shoot during the final dress rehearsals, moving about the house for the best angles in each scene. We stay out of the way and never use flash.

We make great efforts to capture the pivotal moments of each show. By attending more than one rehearsal, we are able to learn how the story flows and position ourselves to capture the postures and expressions that highlight the story.

Continuous improvement is our goal, and we try to make each effort better than the last. We share and discuss our work with other photographers in this field, drawing upon their skills and experience and gaining creative ideas in the process.

We are continually upgrading and updating our technological tools, including state-of-the-art photographic equipment, computers and specialized software. The best images are created with a combination of skill, experience, and the best tools available.

We try to keep our product affordable. We sell a CD containing hundreds of images for a price that amounts to only pennies per image. License is granted to make prints from those images - as many as you want! You can choose your own print lab or print them at home, and therefore pay no more than if you had taken the pictures yourself.

We pride ourselves on quick turnaround. For a typical weekend show, CDs of the images we take on Thursday night are available on Sunday. We deliver them to the theatre for your convenience.

We take our work seriously, but we don't take ourselves too seriously. We cooperate with theatre management, directors and performers to enhance the process, not interfere with it.
If you are involved in an upcoming production and are interested in having it photographed, please contact us. We look forward to hearing from you!
Performance Photography

Curt & Becky Newport

815-494-5294